The childhood of art
The Astérix Art Strips constitute a challenge, and not only for the wordplay.
In comic books, there is often a tendency to think that a panel takes on its full narrative dimension in the relationship it has with the panels that surround it.
It is indeed in the dialogue with the other panels that the story is built, the plot comes alive, and the adventure begins. And yet, the reader, especially as a child, loves nothing more than to stop on a particular panel and lose themselves in contemplating a detail, a setting, a posture, a line or an arabesque which then become entire worlds unto themselves. The panel is no longer associated with the time of reading, but rather with a time of dreaming, the imaginary in suspense. The whole point of Art Strips is to capture this suspended moment, sometimes the duration of an entire strip, and to thereby discover the infinite pleasure of mindful daydreaming at the edges of the panels.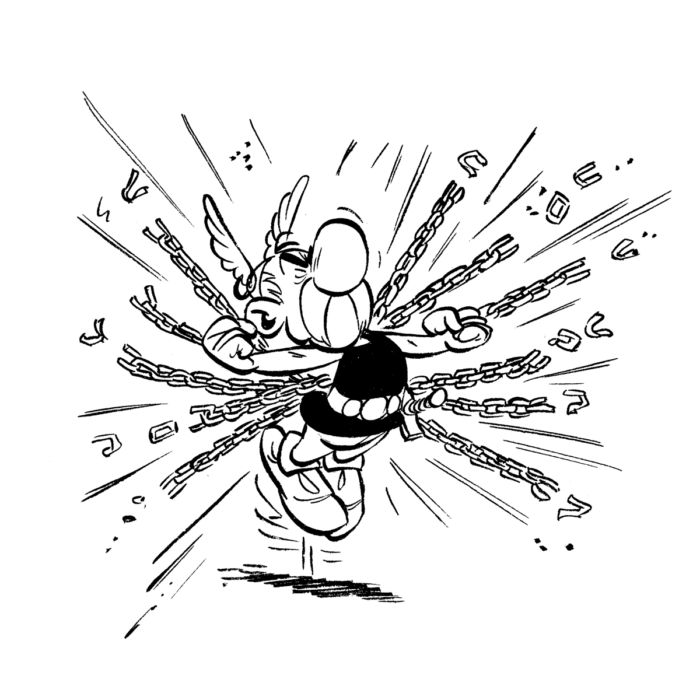 …loves nothing more than to stop on a particular panel
and lose themselves in contemplating a detail…
This is all the more true for comics that have marked generations of readers, such as the Astérix series created by René Goscinny and Albert Uderzo in 1959. In this series, the panel or sequence of panels function as an extraordinary concentration of talents. More than just co-authors, Goscinny and Uderzo were friends, and their complicity seems to have imbued all their joint works. This is not just a question of a particular symbiosis between text and image, even if they each found in one another the ideal partner to develop their shared sense of humour to perfection.
But what shines through the most in the collaboration between the two men, is their indefinable alchemy, with powers as secret and unattainable as the magic potion of the indomitable Gauls. Each panel, each strip, bears witness to this unmatched partnership which gave birth to a timeless immortal piece of work.
…dutifully reproduced
to the last fibre…
Selected over a period of ten years, between 1963 and 1973, the Astérix Art Strips revisit some of the best panels produced in tandem by these two comic strip geniuses. Based on the original plates drawn and inked by Albert Uderzo after René Goscinny's scripts, dutifully reproduced to the last fibre, and enhanced with the colours of the period, these panels offer a dive into the very essence of an artform like no other. It is an opportunity to be submerged again in a universe that will never leave you – particularly if you fell into it at as a baby.
Finishings:
Plexiglass on aluminium – Dibond, with an aluminium hanging frame on the back.
Fine Art Hahnemühle paper on aluminium – Dibond, framed in a white or black American wooden frame. Hanging frame on the back, made of aluminium.
Read more with photos & video on both finishings
Limited Edition
All the Asterix Art Strips are published in a limited edition of 30 copies with a certificate of authenticity signed by Céleste Surugue, Managing Director of Editions Albert René, and Florence Mittnacht, Legal Director of Editions Albert René.
Delivery time and conditions:
Production time 2 to 3 weeks
Delivered in cardboard and plastic film