Forward!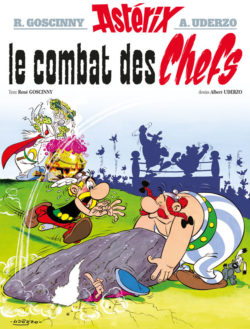 Asterix and The Big Fight
Prepublication in the comic magazine Pilote between 1964 and 1965
Original publication 1966 – Plate 42
The Romans believe they hold the indomitable Gaulish village at their mercy. Indeed, the druid Getafix has lost his mind after an accident involving a Menhir, but everything is all right again. However, the Romans are still unaware of this. Just as the garrisons of legionaries prepare for a victory march (or so they hope), there is a spectacular turn of events: it is the Gauls, led by Asterix, who attack!
This close-up shot celebrates all the expressiveness of the Gaulish warrior: the vengeful malice, already savouring the fight to come, mingled with the conquering gesture of the one who must not be tickled too much…
1.700€ – 3.000€
Finishings:
Plexiglass on aluminium – Dibond, with an aluminium hanging frame on the back.
Fine Art Hahnemühle paper on aluminium – Dibond, framed in a white or black American wooden frame. Hanging frame on the back, made of aluminium.
Read more with photographs & video
Limited edition
All the Asterix Art Strips are published in a limited edition of 30 copies with a certificate of authenticity signed by Céleste Surugue, Managing Director of Editions Albert René, and Florence Mittnacht, Legal Director of Editions Albert René.
Delivery time and conditions:
Production time 2 to 3 weeks
Delivered in cardboard and plastic film