Get out if you can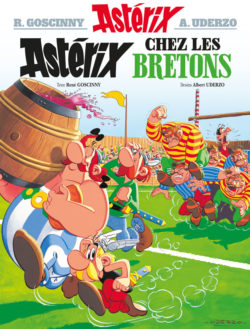 Asterix in Britain
Prepublication in the comic magazine Pilote between 1965 and 1966
Original publication 1966 – Plate 43
« Looks like their innings now! – Quite an outing! » These two sentences perfectly translate the state of panic of the Roman legionaries, as they face the alliance of the Bretons and Gauls boosted with what they think is magic potion but is really just hot water enriched with some leaves of an unnamed substance. This marks the beginning of a hasty retreat marked by its disorder – what we would otherwise call a debacle.
And yet, in this chaotic panel, everything is perfectly placed: from the line of attack in diagonal formation to the speech bubbles responding to one another, without forgetting the movement of the crowd in Obelix's wake which seems to blur his face – like afterimages of himself and the lightning attack he leaves behind.
1.500€ – 4.200€
Finishings:
Plexiglass on aluminium – Dibond, with an aluminium hanging frame on the back.
Fine Art Hahnemühle paper on aluminium – Dibond, framed in a white or black American wooden frame. Hanging frame on the back, made of aluminium.
Read more with photographs & video
Limited edition
All the Asterix Art Strips are published in a limited edition of 30 copies with a certificate of authenticity signed by Céleste Surugue, Managing Director of Editions Albert René, and Florence Mittnacht, Legal Director of Editions Albert René.
Delivery time and conditions:
Production time 2 to 3 weeks
Delivered in cardboard and plastic film