NOOOO!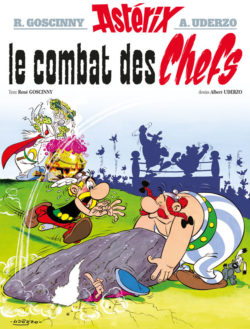 Asterix and The Big Fight
Prepublication in the comic magazine Pilote between 1964 and 1965
Original publication 1966 – Plate 7
Knowing that the secret of their rivals' invincibility is held by Getafix, the Romans try once again to kidnap him, after Asterix the Gaul. Asterix and Obelix are vigilant and witness the operation. Obelix takes the initiative and throws his menhir to disperse the attackers. Mission accomplished… But not without collateral damage: it is poor Getafix who is on the receiving end of the full force of the massive stone!
Albert Uderzo deploys a rich palette of graphic elements to describe a drama that is now out of control: Asterix's face, deformed by fright (a rare occurrence), the deafening lettering trembles with panic, and the menhir, the top of which is already surpassing the panel, follows its fatal trajectory.
1.300€ – 4.200€
Finishings:
Plexiglass on aluminium – Dibond, with an aluminium hanging frame on the back.
Fine Art Hahnemühle paper on aluminium – Dibond, framed in a white or black American wooden frame. Hanging frame on the back, made of aluminium.
Read more with photographs & video
Limited edition
All the Asterix Art Strips are published in a limited edition of 30 copies with a certificate of authenticity signed by Céleste Surugue, Managing Director of Editions Albert René, and Florence Mittnacht, Legal Director of Editions Albert René.
Delivery time and conditions:
Production time 2 to 3 weeks
Delivered in cardboard and plastic film