The banquet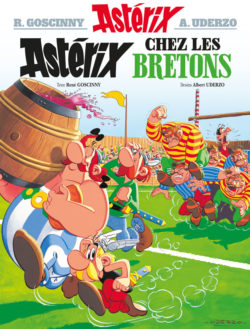 Asterix in Britain
Prepublication in the comic magazine Pilote between 1965 and 1966
Original publication 1966 – Plate 44
What is an Asterix adventure without its traditional banquet in the final panel? Under a starlit sky, around a roaring fire, the circle of guests depicts a strong community, just like the fence that surrounds the village. This is a utopian vision of a group united in celebrating an existence temporarily protected from the attacks of the outside world. This happy ending is associated with the reassurance of returning home and rediscovering the harmony of a simple existence.
A harmony that would be a little dissonant if Cacofonix were allowed to do his singing number.
1.500€ – 4.200€
Finishings:
Plexiglass on aluminium – Dibond, with an aluminium hanging frame on the back.
Fine Art Hahnemühle paper on aluminium – Dibond, framed in a white or black American wooden frame. Hanging frame on the back, made of aluminium.
Read more with photographs & video
Limited edition
All the Asterix Art Strips are published in a limited edition of 30 copies with a certificate of authenticity signed by Céleste Surugue, Managing Director of Editions Albert René, and Florence Mittnacht, Legal Director of Editions Albert René.
Delivery time and conditions:
Production time 2 to 3 weeks
Delivered in cardboard and plastic film